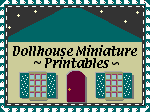 Before You Start
Instructions for saving images and printing to scale. How to print on fabric.

Fabrics, etc.
Miniature quilts, fabrics and wallpapers

Furniture
Have a seat!

New Additions
what's new?

Links

E-mail

Click on the links below to reach the graphics.
Copy and save the images to your computer before printing.
Read "Before You Start" for full instructions.


---
---

More printable dollhouse projects below!
---

Big Band Mini Tunes -just hummin' along

Mini Aquarium -fish included!
Mini Hibachi Grill -bring on the burgers!
Old Time Cash Register -ka-ching!

Little Red Wagon -go for a ride?

Garden Urns -Spring is almost here!
NEW- 07/03 Japanese Shoji Screens
The Junk Drawer - miscellaneous odds and ends

---
Except as noted
this site and all contents
© 2001-2003 by Christine Woolsey
All Rights Reserved
Commercial use by permission only

Thanks for visiting! :^)