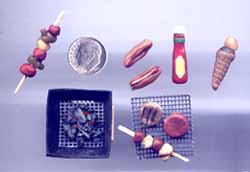 ---

Craft hint!

Polymer clays like Fimo or SculpeyIII can be boil cured instead of baked. The finish will be dull but is suitable for painting.

Place shaped pieces on a spoon and lower into boiling water. Gently boil for ten minutes. Remove and dry well before painting.

Though painting polymer clay is not generally recommended, the boiled samples pictured have held up well for over 2 years with no harmful effects.
Some barbeque additions....
To Make Charcoal - glue a few small bits of aquarium filter carbon to a small piece of screen cut to fit inside grill. Dab some bright red or orange acrylic paint into "coals" to simulate burning. Lightly brush a faint layer of gray here and there over coals to duplicate burnt ash.
Since I never have a large collection of colors, all of the food pictured was made from a light colored Sculpey, painted with craft acrylics, and sealed with a clear satin water based acrylic sealer.
Pierce shishkebob pieces in center with toothpick before curing so they can be thread on and glued to a small toothpick.
To make the waffle texture of the ice ceam cone, press a small piece of flattened clay onto a piece of screening like that used for grill.